by FuckEm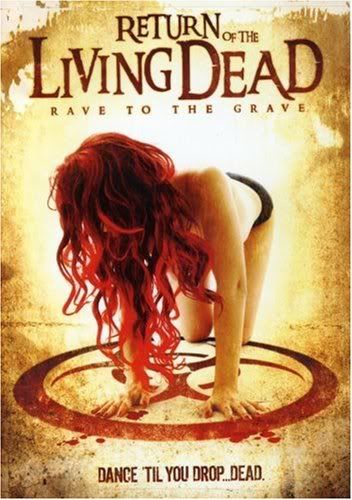 Shot back to back with
Necropolis
,
Return of the Living Dead: Rave to the Grave
tells the ambitious story of a High School student who finds a Trioxin canister in his Uncle's attic. After giving it to his friend to study, it's decided they can sell it as an illegal drug. And as the title suggests, at some point a rave will work itself into the story. Yes sir, this is gonna be a good one...
First, this film retains the retcon from
Necropolis
that the Zombies can be stopped by a bullet to the brain. So once again, fuck that. Our survivors from
that film are also retained, which is strike two. They're playing the same characters, but when Zombies appear calling for brains, they act as if they've never saw this before and have no idea what's happening. I guess one could argue that they were trying to be vague and not alienate people who didn't see
Necropolis
, but since both came out at the same time, I find that to be moot. It also just makes the characters look all the more stupid.
Joining the cast this time out are a pair of goofball Federal Agents; think the dumb Cops from
Halloween 5
, only
with accents. The few laughs the film has comes from these two. That's the only thing I can compliment
Rave to the Grave
on; it reverts the series back to its comical roots that both previous sequels tried to run from. This film seems to realize how ridiculous it is, and plays to that. As a result, it becomes a bit more watchable than its predecessor. However, it is plagued with all the other
Necropolis
staples; such as bad direction, acting, and writing.
Not much more I can say except don't waste your time with this unless you like to suffer and please, to whomever it may concern, let this series rest in peace.
Directed by
: Ellory Elkayem
Starring
: John Keefe, Jenny Mollen, Cory Hardrict, Aimee-Lynn Chadwick, Cain Manoli
Released by
: Lionsgate
Special Features
FuckEm's Rating: