by FuckEm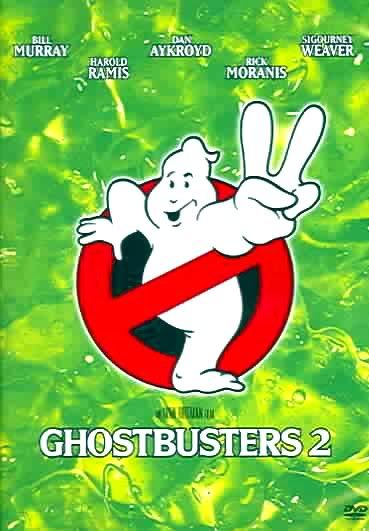 Five years after saving the world, we find the Ghostbusters out of business as the result of a court's ruling that forbids them from disposing of spooks. That will soon change, when a 17th Century tyrant uses a self portrait of himself as a means to return to the living world.
The idea that the guys are now inactive is the only major problem I have with the film. It's clearly a comment on how fickle the world can be, but the ending of the first film was just too strong for me to fully accept this approach, and I felt it contributed to a loss of momentum between the two stories. This also broke continuity with the popular animated series,
The Real Ghostbusters
, at the time; which upset some fans. I didn't really mind that, honestly; as I've always taken the films separately from the animated material. Though, there were those with influence along the way, who wanted to remind us of the animated series; most notably with Janine's new look. C'mon
, Annie Potts
didn't deserve to have to wear a goofy red wig.
One of the first things you will notice about
Ghostbusters 2
is that it's not as edgy as the first film. The look of it is more colorful and polished, and the music, by
Randy Edelman
, is more cheerful and heroic. Many contribute this also to the animated series, and accuse the film of trying to be more kid-friendly. I figure there is some truth to that, because the first film wasn't really seen by the filmmakers as a kids' movie. So, the sudden impact that it had on children was going to be somewhat of a factor for better or worse. But, I don't think they go overboard with it. It's certainly not G-rated material. I think one of it's best qualities, is that it retains a similar type of pacing as the first film; although not quite as flawlessly.
In the tradition of
"more is better"
in a Sequel, we have more ghosts this time and a couple more ghostbusting scenes. Some of the special effects here are actually a little better than the ones in the first film. Our new villain is
Vigo the Carpathian
. He's presented in a slightly different way than was
Gozer
in the original film. It was all about building up to the arrival of Gozer; but Vigo is revealed fairly early on. He's presented as more of a conquering type and a bloviator. While the big complaint about Vigo is that he's just a painting and doesn't measure up to his predecessor (which is true); it's his plot to draw his strength that defines him. It's probably the center piece idea of the film, and the most interesting. I also really like how Aykroyd and Ramis take their time weaving those two plot elements together.
A few new characters are worked into the story this time. The curator at the Museum of Modern Art, Dr. Janosz Poha (Peter MacNichol), gives one of the standout performances. With his silly accent, bad hair, and weasley mannerisms; almost everything he does and says in the film is funny. Our new human antagonist is the Mayor's Assistant Jack Hardemeyer (Kurt Fuller). Although Fuller is a good bad guy in the film and quite unlikable; I didn't find him to be quite as good as Walter Peck. But, he is in some ways even more of a bad guy than Peck was. Peck despised the Ghostbusters because he perceived them to be breaking the law; but Hardemeyer seems to have more of a personal agenda with them.
The entire featured cast reprise their roles.
Bill Murray
,
Dan Aykroyd
,
Harold Ramis
, and
Ernie Hudson
return as the Ghostbusters; and are in top form.
Sigourney Weaver
,
Rick Moranis
, and Annie Potts are back as well. I think another of the things that I liked about this film, was that most of the characters had some further development. Both Winston and Janine have more to work with this time out. Though, they could have still given Winston a bit more, because he's omitted from a few scenes for no good reason. Most significantly, the relationship between Peter Venkman and Dana Barrett is taken much further. We learn that Peter and Dana broke up sometime following the last time we saw them, and Dana was then married, now divorced, and has a child. The first time around, it was more like a chase for Venkman; with Dana fitting into the "slacker gets the girl" scenario. This time, the situation provides a deeper character for the scenes they have together, and I bought into their relationship more.
But, that does bring us to perhaps the biggest complaint about
Ghostbusters 2
. Many fans claim that the film simply recycled too many elements from the first; citing the Dana/Peter relationship as one of the prime examples. It can't be denied that there are quite a few throwbacks and structural similarities to
Ghostbusters
. But, there are some complaints that I just can't get on board with. The big one - Dana's presence, and the fact that it's not a different woman, makes it feel too much like the first. To me, a woman Venkman didn't already know would actually make it even closer to his relationship with Dana in the first. But, bottom line; a love interest of any Ghostbuster being plagued by ghosts would conjure up memories of the previous film. It's not uncommon to see the film bashed for being too similar to the first and for being too different from the first almost in the same breath. In situations like that, I just can't help but feel that some fans are just trying to punish this film for not being as good as the original. Though, I will say that the finale of this film is somewhat of a letdown. It doesn't quite reach the climactic level that it should have.
Post production saw a few changes made to the film. Sequences which were shot and the special effects completed for were removed, and new sequences were shot to replace them. As well as the removal of Louis Tully's Cousin, who was played by Eugene Levy; which caused an entire sequence of events later in the film to change. Now, this was not exclusive to
Ghostbusters 2
, as the first film had some reworking done as well. However, many fans consider the material they deleted for the sequel to be significant.
I've waited until now to talk about the character of Louis Tully. For me, the most important of the deleted scenes was a whole subplot involving Louis having a feud of sorts with Slimer. I liked the idea that the Firehouse was being haunted by Slimer and it was only Louis who saw him. Louis had two sequences where he attempted to capture Slimer and fails, then he reveals to Janine that he's practicing to be a fifth Ghostbuster. With all this removed, his new character arc which is still in the film, is diminished. The second deletion that people often point out, is one where Ray comes under the influence of evil and has a bad case of road rage in the
Ecto-1A
, trying to drive all the guys into a tree. While it may have been a cool sequence, it really wasn't needed, because what it leads to was already set up in a prior scene. Those were all said to be removed due to time and pacing.
It saddens me to see many be so down on this one these days. Even some of the people involved, mostly notably Rick Moranis and Bill Murray, have said they were disappointed with the final product and how the film performed at the box office (Making roughly half of what the first did). But, they have nothing to be ashamed of. Even though I think it has sequences that compete with the first film in terms of laughs; I'll be the first to admit that
Ghostbusters 2
is not the groundbreaking classic that the original was. The concept just wasn't as fresh anymore. It is however still a genuinely funny film that is well crafted, and serves as a great re-visitation of these characters. It lends itself to multiple viewings as well as
Ghostbusters
, and is in no way a bad film.
Directed by
: Ivan Reitman
Starring
: Bill Murray, Dan Aykroyd, Harold Ramis, Ernie Hudson, Sigourney Weaver, Rick Moranis, Peter MacNichol
Released by
: Columbia Pictures
Special Features
2 episodes of The Real Ghostbusters
:
"Citizen Ghost"
"Partners in Slime"
FuckEm's Rating: