by Patrick "ChoKo" Robertson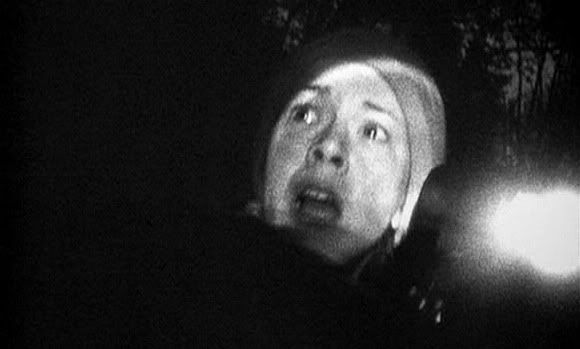 By now, you know the story unless, of course, you've been living in a fallout shelter for the last decade. It's been 10 years since Heather, Mike, and Josh sojourned into the Black Hills of Maryland to film their ill-fated project. In a film filled to the brim with creepy, suspenseful moments, you'd think it'd be hard to pick just one for this Hall of Fame Induction but, after a bit of thought, one sequence in particular sprung to mind...

At the point in the film where this sequence takes place, Heather, Mike, and Josh have been lost in the woods for a few days. Having supposed to have been home several days before, they're running on little or no food and are having to hike for hours, to the point of exhaustion, carrying heavy packs on their backs. To make matters worse, someone or something is prowling the woods at night, making unearthly noises and leaving piles of rocks for the unlucky to trio to find outside their tent. Even with all that being said, nothing could prepare them for what happens next....

In one of the most terrifying scenes ever caught on film, Heather, Mike, and Josh are awakened by the laughter of what sounds like little children outside of their tent. As the seemingly playful laughter continues, the scene reaches its boiling point and the tent begins to shake uncontrollably. The trio escapes and runs frantically from the tent, screaming into the night, as the childish laughter continues...