by Bruce Jordan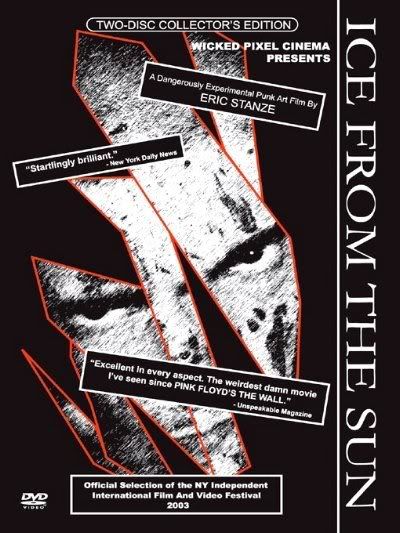 After Allison (Ramona Midgett) commits suicide, her soul is stopped by a go-between for the angels of heaven and the demons of hell. Centuries prior, an evil wizard created a dimension encased in ice that he ruled with a human apprentice named Abraham (DJ Vivona). After several people are tortured and killed, Abraham's darkened soul is filled, transforming him into a being known as the presence. Allison's spirit is reunited with her body so that she can enter the ice dimension. She ends up there with another group of would-be victims in order to stop Abraham. The angels and devils are unable to stop the presence because they are disembodied, so it is up to Allison to force Abraham into remembering when he was human so that he will be vulnerable to his supernatural enemies.

I know this sounds rather complicated and, truthfully, it is, but this is not necessarily a bad thing. This allows the film to have a different effect on the viewer each time you watch it; I had to watch this one a couple of times to get a handle on the plot. A super low budget film is generally straight to the point, which is not the case here. The director, Eric Stanze, does a good job of throwing enough curve balls to have you guessing as to what is actually happening.
Make no mistake about it, this is a visual film. The story and how it is filmed are the highlight here, with some nice jarring effects due to sound design. The film goes from completely silent to loud as hell at the drop of a dime. This is a hard concept to pull off with what was obviously a very tight budget. The acting is somewhat a mixed bag, going from okay to very bad. For the most part, the acting takes a back-step to the action.
There are a couple of things that, in my opinion, hurt this one; The overlong running time being one of them. This could have definitely used some better editing. The constantly flashing images during the music segments also hurt because they gave those points in the film an almost detached, music video feel. Although many of the images are creepy, they don't particularly feel like they belong in a movie. I do give Eric Stanze credit for taking on such a complex plot, although it doesn't always come across. All in all ,this was a descent little underground film with bigger aspirations than budget.

Directed By:
Eric Stanze
Starring:
Ramona Midgett, Angela Zimmerly, Todd Telvin, Jason Christ, Tommy Bondo, Jo Polermo, Tracey Hein, Jessica Wyman, DJ Vivona
Released by:
Wicked Pixel Cinema
, Image Entertainment

Special Features:
Three Commentary Tracks
Behind the Scenes Documentary
Musical Score Featurette
Audition Footage
Film Facts
Still Gallery
Music Videos
Trailers
Easter Eggs
Bruce's Rating: