by FuckEm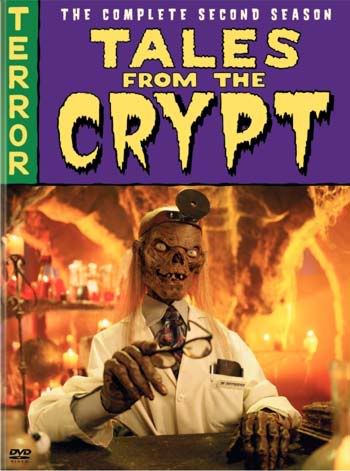 Hard to believe that it's been just two months shy of a full year since I reviewed the first Season of Tales From the Crypt. Better late than never, it's time for a review of Season 2. The first year was sort of like a trial run for the show I suppose; only 6 episodes. The first thing you should notice about this Season is that it's three times as long with 18 episodes. Other changes can be seen in The Cryptkeeper's personality. He's been lightened up a bit. His voice isn't quite as raspy as it was during the first year and he sheds his dusty old cloak more often for other more comedic attire throughout the Season. Sadly, the cloak would be phased out completely after this Season.

The menus for this were a nice treat. In addition to just hearing John Kassir as The Cryptkeeper over the select screens, they've given us some new puppet work for this set that is spread about. Enjoy it while it lasts however, since only the third Season was given the same treatment. But, it does in some ways help make up for the intros of the episodes yet again being cut out. Now, on to the episodes themselves:

"Dead Right"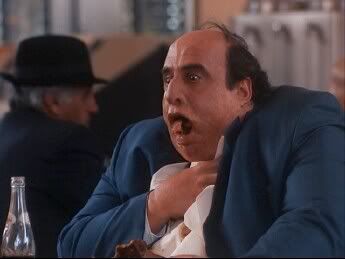 In this first episode, a Psychic tells a working girl named Kathy (Demi Moore) that she will soon marry a man who will die a horrible death; but not before he inherits a large fortune. But, to Kathy's horror, the man turns out to be physically repulsive. Can she stay married to him long enough for the predictions to come true?

A mostly comedic episode, but does feature some pretty disgusting makeup on Charlie Marno (Jeffrey Tambor). It gets darker toward the end though. A bit of trivia that some Horror buffs may care about is that The Texas Chainsaw Massacre III's Kate Hodge appears in a very small part. Not the best episode on the first disc; it's simply okay.

"The Switch"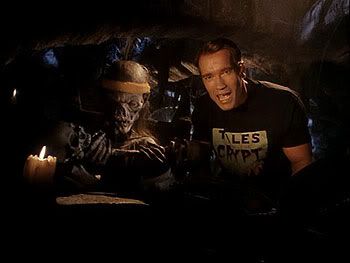 A well off, elderly man Carlton Webster (William Hickey) seeks to regain his youthful appearance so his girlfriend Linda (Kelly Preston) will wed him; and to do this he decides to switch his body with that of a young man.

I didn't like this one much; it was just too corny and far fetched for me. I know, I know -- this is the Horror genre, so nothing should be far fetched. I could have dealt with it had it been some kind of supernatural thing probably, but they take the approach that it's an actual surgical procedure. I just don't think you should try to ground something this outlandish in reality. It just put me off. Nothing much more to say about this one, except that the Crypt-appropriate ending is morbidly funny. This episode was also directed by Arnold Schwarzenegger, and he appears in the first part of the wrap around with The Cryptkeeper trying to help pump him up.


"Cutting Cards"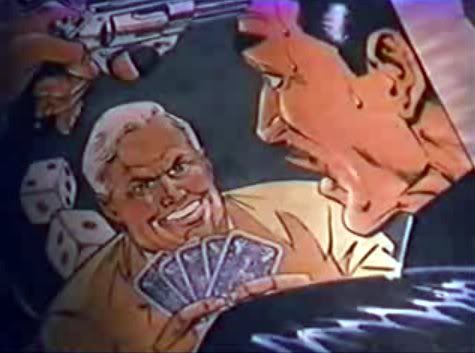 Things look up with this episode. Two intense gambling rivals, Reno (Lance Henriksen) and Sam (Kevin Tighe), take it upon themselves to play a few dangerous games to snuff out their grudge.

To me, this was the best episode on the first disc. It features some nice dialogue and moments that make you wince a little. It also has a good performance from Henriksen and a pretty good one from Tighe. It features one of the truly memorable endings in a Tales From the Crypt episode for me.

" 'Til Death"

A lovestruck man named Logan Andrews (D.W. Moffett) asks a Voodoo Priestess for help in making Margaret (Pamela Gien) who isn't interested in him, love him for life. Well, it works; too well in fact.

This one is an average Zombie tale with some nice makeup which gets progressively better throughout the episode. It's definitely the better of the two Zombie-themed episodes on this disc. Aubrey Morris is in this; who Crypt fans will recognize from the second feature film Bordello of Blood.


"Three's A Crowd"

This episode is all about Richard (Gavan O'Herlihy) thinking his Wife Della (Ruth de Sosa) is having an affair with his best friend.

The bulk of this one is Drama-based. You do feel some sympathy for O'Herlihy's character, but he looks so damn sinister from the beginning that it's kind of hard to at times. The only thing really memorable about this one for me, is that it has one of darkest and kind of sad endings of the Season.


"The Thing From The Grave"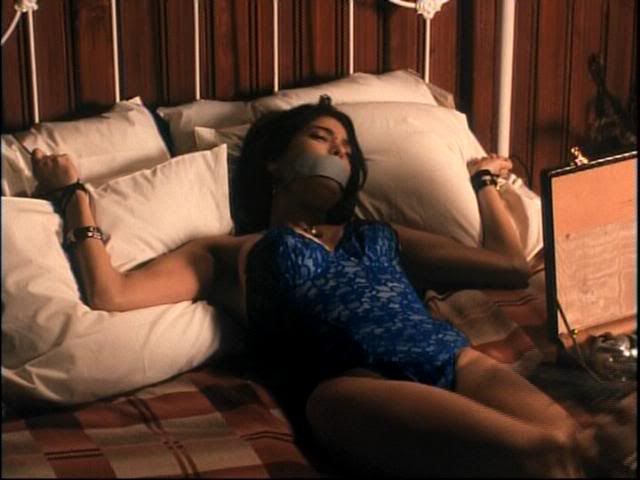 A photographer takes interest in one of his models, Stacy (Terri Hatcher), but the problem is that she's married to an abusive prick named Mitch (Miguel Ferrer).

Miguel Ferrer playing an ataganistic character? Truly a first. This is the second Zombie episode I spoke of earlier. It's pretty ho-hum in my view, and nothing much happens to make it stand out. Ferrer gives the best performance I think, since he's always good at portraying slimy and intense characters. Despite his performance though, it's probably the weakest episode just behind The Switch simply based on the story.

"The Sacrifice"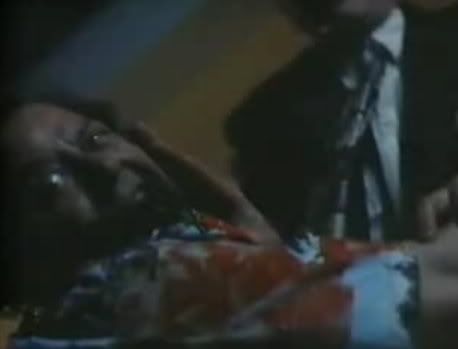 A salesman named James (Kevin Kilner) begins cheating with another man's Wife, Gloria (Dana Delaney). They soon start plotting to knock him off for an insurance policy, but are surprised to learn that they're not the only ones with something up their sleeve.

I have to say that these are my least favorite type of Crypt episodes; I just find them bland. It could be argued that they give the show some depth and versatility, and for some that's probably true; but I've just never responded to them. It's ending is also just way too convenient for me. But, I did enjoy one really funny line that is delivered early in the episode. I'm sure you'll know which one when you hear it.


"For Cryin' Out Loud"
A crooked night club owner Marty Slash (Lee Arenberg) begins hearing his conscience (Sam Kinison) speaking to him inside his head, as he's on the verge of stealing a million dollars.

This was a pretty amusing concept for an episode, and I think it leads to it being one of the more successful comedic episodes of the Season. Arenberg I thought was good here. His facial expressions especially; as they can range from comedic to creepy rather convincingly. Kinison was also obnoxiously funny as Slash's conscious. Katy Sagal is also in this one, as Slash's Banker who catches on to his scheme.


"Four-Sided Triangle"
After a blow to the head, a farm hand named Mary Jo (Patricia Arquette) begins to think a scarecrow in the field is alive and in love with her.

This one is probably remembered by the strictly tits and ass crowd for the various shots of Arquette in tight shirts and pants; but if you watch the actual episode, I think what helps this one rise to above average is that it's directed and co-written by Tom Holland. I think he did a good job of incooperating a subtle humor and helping bring to life some enjoyable quirky characters. Things such as George's (Chelcie Ross) hapless advances on Mary Jo and his Wife Luisa's (Susan Blommaert) almost clueless reactions are shining examples. The ending is also well done.
"The Ventriloquist's Dummy"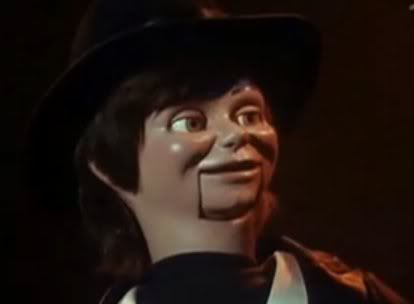 A wannabe ventriloquist Billy (Bobcat Goldthwait) invites his retired idol Mr. Ingles (Don Rickles) to see his act, and soon discovers the secret behind the old timer's famous act.

I think the most notable thing about this episode is that it had quite the combination of writer (Frank Darabont) and director (Richard Donner). This episode is a little ridiculous, but not bad. It's solidly structured and has a pretty manic pace near the end, which I liked. Goldthwait usually grates on me quite heavily, but here, I didn't find him to be that annoying. Maybe it was because he had Rickles to overshadow him in several scenes.


"Judy, You're Not Yourself Today"
Posing as a door to door saleswoman, an old Witch (Frances Bay) switches bodies with a young woman named Judy (Carol Kane).

The music spoils this episode for me. It's just awful; very pressing and a constant distraction from what's going on. It's also a very hammy episode in terms of acting, so all of that together wasn't a good combination for me. Kind of a shame, because I felt the story was pretty passable.


"Fitting Punishment"
A recently orphaned Teenager named Bobby (Jon Clair) comes to live with his Uncle Ezra (Moses Gunn) at his Funeral Home, but his stay may be ill-fated.

This one is your classic "just desserts" Crypt episode, but it is well acted by Jon Clair and Moses Gunn. They carry the episode well. It also has a fitting background in the form of this funeral home and a compelling atmosphere from director Jack Sholder. Not really a standout episode in terms of story to me, but a well made one.


"Korman's Kalamity"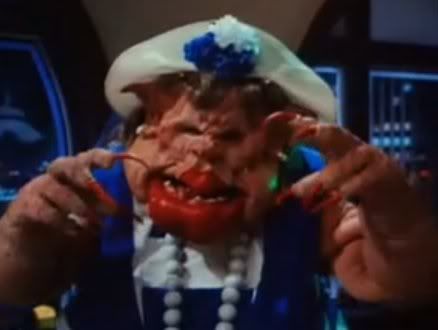 A Police woman (Cynthia Gibb) is convinced that the creatures artist Jim Korman (Harry Anderson) draws for his Horror comics, are actually coming to life.

This episode pays a lot of fan service to the original comic books which spawned this series, since Jim actually works for Tales From The Crypt comics in the story. There's also several in jokes that can be found throughout the episode which refer to the tv series, including a mockup of The Cryptkeeper and also several musical cues. It's a lighthearted and enjoyable episode for the most part, with several EC-inspired monsters scattered throughout. One is played by Tom Woodruff, Jr. who is most known to Horror fans as playing the original Pumpkinhead as well as the Xenomorph from the Alien franchise four times over. The only thing I didn't really like about this one was that I felt it could have been wrapped more conclusively; but it does have enough of that EC charm to make that simply a minor flaw.


"Lower Berth"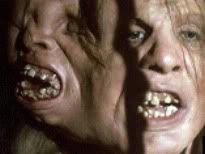 On the verge of death and wanting to have a normal life, a two-faced carnival freak named Enoch (Jeff Yagher) falls in love with a cursed, decrepit Egyptian Mummy.

Directed by Cryptkeeper designer Kevin Yagher, this has a very good atmosphere. There's a sense of weird vibes all over this one. Jeff Yagher does a good job as Enoch, and you feel bad for the guy. Good performances are also given by Mark Rolston (who should be known as Drake from Aliens to anyone whose balls have dropped), as well as Lewis Arquette and Stefan Gierasch. Of course, the last shot and its importance to the story have always secured this one a spot in the most memorable episodes category for many. Why is that? Well, I won't spoil it for you on the off chance that you've never saw the episode before.

"Mute Witness To Murder"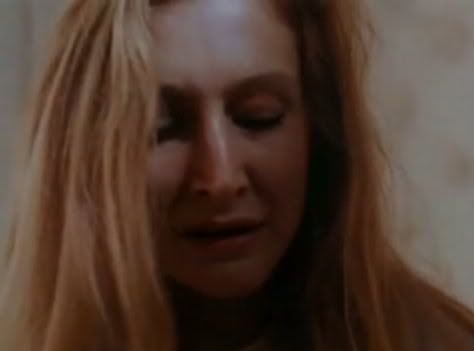 While celebrating her wedding anniversary, Suzy (Patricia Clarkson) witnesses a murder through a neighbor's window and goes into shock; unable to speak. If that's not bad enough, the Doctor (Richard Thomas) who is called to see about her is the same man she saw committing the murder. Dum Dum ... DUM!

This is the only other episode of a serious tone, besides Three's A Crowd, to deal with realistic horror in this Season. But, this one has much more of a Last House on the Left-type feeling of invasion to it. The themes were very similar to me, in that the villain is allowed into your own home and then later has total control over you. You really hate Dr. Trask in this episode. Richard Thomas did a great job playing a real bastard in this. Having only saw his previous more light-hearted roles like in IT and of course his work on The Waltons, I was pretty surprised by how far he was able to go with it and just how much I bought his performance. Patricia Clarkson also plays a great victim and evokes a lot of sympathy; until she's had enough of course. She gives the other standout performance here, and she and Thomas played off one another very well.

"Television Terror"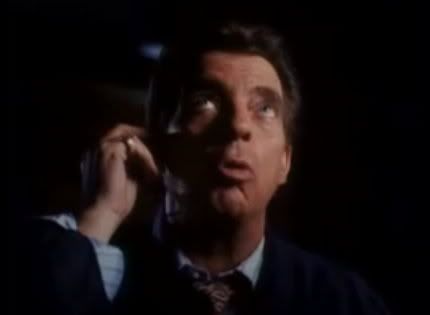 Sleazy tv host Horton Rivers (Morton Downey, Jr.) sets up a live broadcast from inside a boarding house, where five years earlier, a woman named Ada Ridder killed herself and a dozen of her guests.

To me, this is the best episode of the Season. It's also the only one to actually freak me out a little when I first watched it. I love the creepy piano music that opens and closes the episode provided by J. Peter Robinson. The episode has a great atmosphere about it, and a nice sense of a build before moving into the creepy images and the meat (insert Cryptkeeper's laugh here) of the story. The characters aren't really likable, but they're presented as grizzled tv producers and directors, so it's sort of fitting. Morton Downey, Jr. does a good job of being the obnoxious host and could play this in his sleep; since he's more or less playing the same character he did on his real life talk show that was airing at the time. This one has a pretty nasty ending.


"My Brother's Keeper"
Two Brothers, Frank (Timothy Stack) and Eddie (Jonathan Stark), have lived their entire lives as siamese twins. A new and risky surgical procedure could finally seperate them, and Eddie couldn't be happier. Frank on the other hand is reluctant, fearing that he may become lonely once they are apart.

I think this is the weakest episode on Disc three. Certainly not the weakest of the Season by any means; there's pretty good performances from Timothy Stack, Jonathan Stark, and Jessica Harper. There is also a twisted charm about the episode, and some of the humor works. But, it's not much more than a tweener; which happens to be caught right in a line of really strong episodes on this disc. Not the episode's fault of course, but for the momentum on this final disc, its placement in the Season is a little unfortunate.


"The Secret"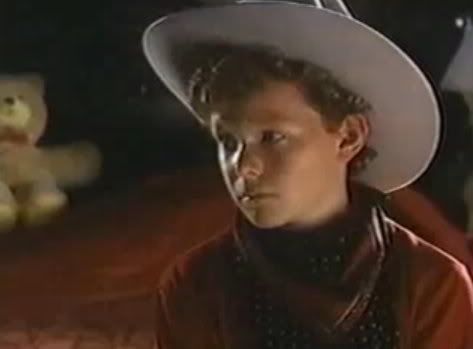 Our final episode of the year features a young boy named Theodore (Mike Simmrin) being adopted from an orphanage by creepy couple, Mr. and Mrs. Colbert (William Frankfather and Grace Zabriskie). He makes fast friends with the couple's butler Tobias (Larry Drake), as the Colberts keep him locked away in his room for the most part. What are they planning to do with Theodore, and what exactly is the real secret here? You'll have to watch and find out; but it might not be exactly what you think.

I found this one to be mostly enjoyable, though there are a few examples of the acting being too hammy, such as the performances from Frankfather and Zabriskie. Maybe it was just me, but I felt that the style of their characters clashed with the rest in this episode. Most of the supporting cast makes up for that however; and Mike Simmrin and Larry Drake do commendable jobs in their heavier roles. This is another one that's all about the twist ending, and I think it worked. Overall, a pretty strong conclusion to the Season.

That's all for now, Kiddies. It was a lot of fun sitting down and revisiting Season 2 again. Hopefully it won't be almost another year before a review of Season 3, which I think may be my favorite Season overall, makes it up on the site.

Directed by: Howard Deutch, Arnold Schwarzenegger, Walter Hill, Chris Walas, David Burton Morris, Fred Dekker, Richard Greenberg, Jeffrey Price, Tom Holland, Richard Donner, Randa Haines, Jack Sholder, Rowdy Herrington, Kevin Yagher, Jim Simpson, Charles Picerni, Peter S. Seaman, J. Michael Riva

Released by: Warner Bros.
Special Features

Disc Two

Fright And Sound: Bringing The Crypt Experience To Radio Featurette
Disc Three

Season 2 Shockumentary Featurette

FuckEm's Rating: